Worship Sunday Mornings 10:00 AM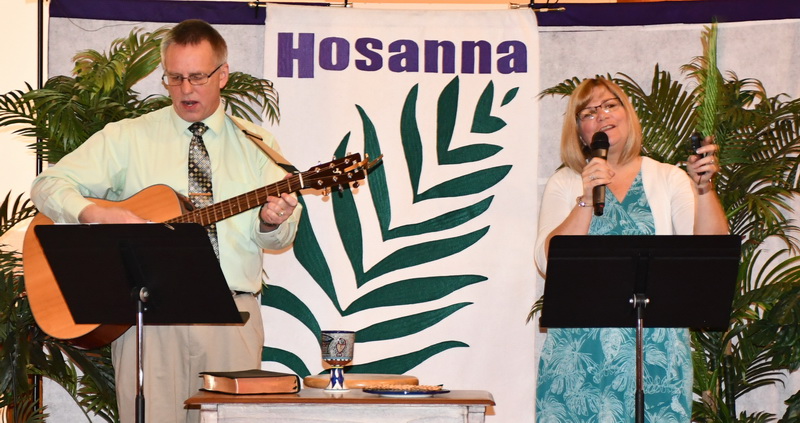 Come join us as we worship the Risen Lord! We follow a Reformed understanding of worship, which means we seek to center our lives around God's Word in all that we do and say, sing and proclaim on a Sunday morning – hoping and trusting that God will shape us and strengthen us to be faithful Christ-followers in our lives beyond the church walls. 
Sermon Schedule
| | | | | |
| --- | --- | --- | --- | --- |
| May 2 | Rev 6:9-11 | The Martyr's Cry | Pastor Kevin Leach | Worship Book |
| May 9 | Rev 6:12:17 | Face to Face with the Lamb | Pastor Kevin Leach | Worship Book |
| May 16 | Rev 7:1-8 | Sealed to Deliver | Pastor Kevin Leach | Worship Book |
| May 23 | Rev 7:9-17 | Never in Doubt | Pastor Kevin Leach | Worship Book |
| May 30 | Rev 8:1-13 | The Sound of Silence | Pastor Kevin Leach | Worship Book |
| June 6 | Rev 9:1-12 | The Gates of Hell Will Not Prevail | Pastor Kevin Leach | Worship Book |
| June 13 | Matthew 25:1-13 | The Parable of the Ten Virgins | Mike Ferguson | Worship Book |
| June 20 | Rev 9:13-21 | A Deadly Warning Ignored | Pastor Kevin Leach | |
| June 27 | Rev 10:1-11 | The Bittersweet Message | Pastor Kevin Leach | |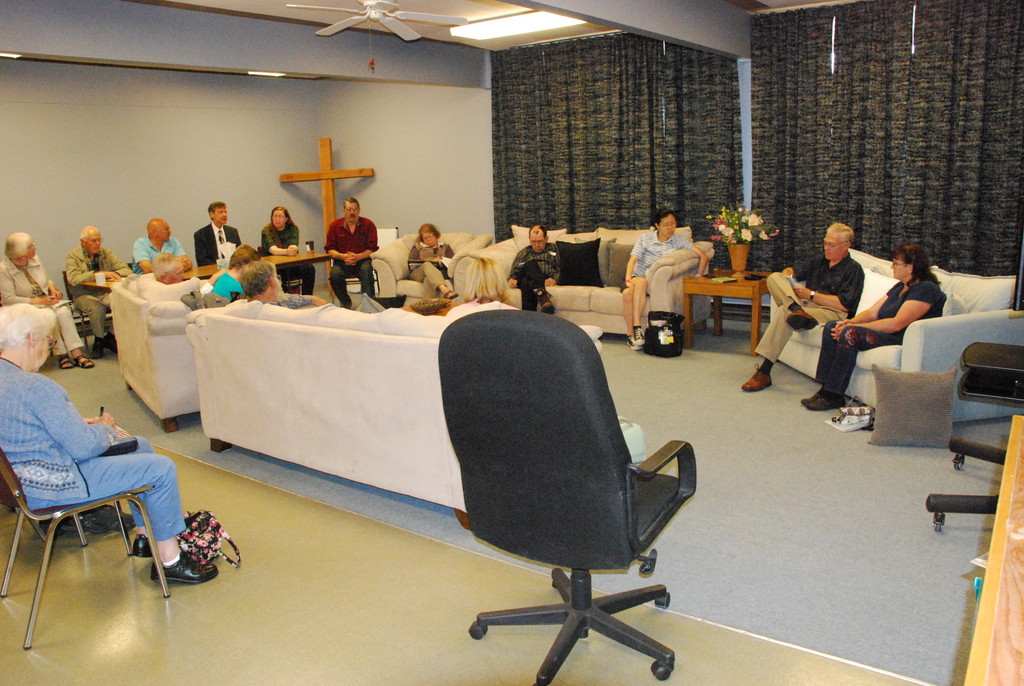 ADULT SUNDAY SCHOOL CLASS

The good news is that our Adult Sunday School class is coming back at 9:00 am starting this Sunday, April 18th. We will once again be meeting in the downstairs Fellowship Hall. There will be tables with only 4 chairs each in order to accommodate social distancing. All tables and chairs will be sanitized before each class. Hand sanitizer will also be available and please remember that face masks are required whenever on church property. But wait, there's more……. the ever popular hot breakfast is back too! We now have the experience on how to prepare and serve meals in a safe manner so you can enjoy the breakfast with confidence.
Before the COVID pandemic interfered, we had started a 6-week DVD study on the book Tactics, A Game Plan for Discussing Your Christian Convictions by Gregory Koukl. For continuity we will be repeating the first lesson this Sunday. Note that copies of the book Tactics, as well as the Study Guide, will be available this Sunday morning for all attendees at no cost. To refresh memories, here is a brief description of this study:
In a world increasingly indifferent to Christian truth, as followers of Christ we need to be equipped to communicate with those who do not speak our language or accept our source of authority. In Tactics Gregory Koukl demonstrates how to artfully get in the driver's seat in discussions about faith, keeping any conversation moving with thoughtful, artful tact. We will learn how to maneuver comfortably and graciously through the minefields, stop challengers in their tracks, turn the tables and—most importantly—get unbelievers thinking about Jesus. Tactics provides the game plan for communicating the compelling truth about Christianity with confidence and grace.
Drawing on extensive experience defending Christianity in the public square, Koukl will show us how to:
Initiate conversations effortlessly
Present the truth clearly, cleverly, and persuasively
Graciously and effectively expose faulty thinking
Skillfully manage the details of dialogue
Maintain an engaging, disarming style even under attack
As always, teaching is shared and rotated between Sally Hager, Mike Ferguson, and Richard Benney. Please join us in the Fellowship Hall on Sunday mornings at 9:00 a.m. for breakfast and solid teaching on how to share our faith.
BibleStudies
Tuesday Morning Bible Chapter Study – in person and Zoom
We meet every Tuesday from 10:00 am until 11:30 am in the room adjoining the pastor's study.  Beginning February 9th, we are studying of the Book of Zechariah . Our attendance averages 6-10.  We usually cover two chapters each week. Our procedure is to read the Bible text, consulting footnotes in our Bibles for clarification, and have lively discussions of how the message applies to everyday situations we encounter. We end with a brief time of prayers of gratitude and for needs requested by those present. The Bible is our sole textbook and there is no homework for this class. We study and learn together. Come join us at any time, whether you are a Bible scholar or new Christian. You will be warmly welcomed by the group!
Men's Bible Study Group meets Thursday mornings at 8:00 AM.
Bible Reading Program
Join the congregation as we read through the Bible in 2021. Below is a resource to help you read through the Bible daily and engage with God. Click this link for your Bible Reading Program.
Also available, 3 year Bible reading plan.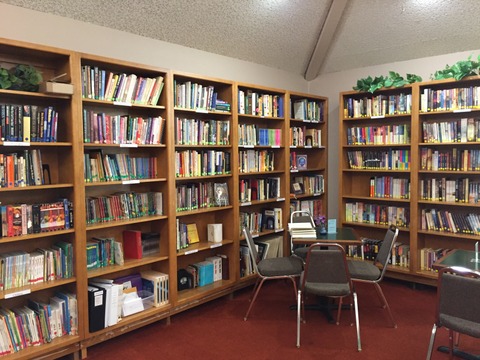 We have a very good library with excellent reference materials as well as many Christian fiction books.  In addition, we have audio books, DVDs, and a large collection of videos.