Worship Sunday Mornings 10:00 AM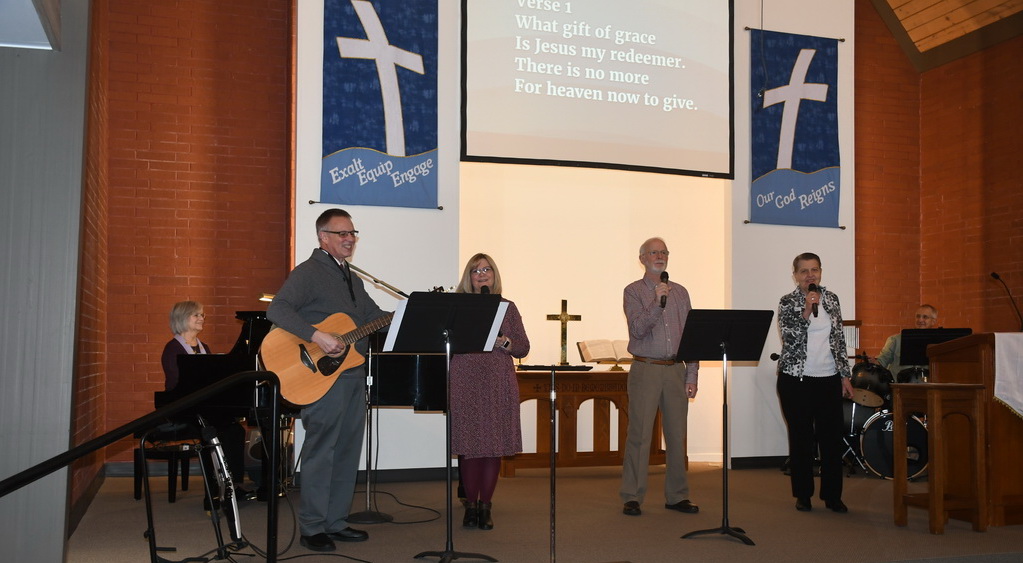 Come join us as we worship the Risen Lord! We follow a Reformed understanding of worship, which means we seek to center our lives around God's Word in all that we do and say, sing and proclaim on a Sunday morning – hoping and trusting that God will shape us and strengthen us to be faithful Christ-followers in our lives beyond the church walls. 
Sermon Schedule
| Date | Scripture | Sermon | | |
| --- | --- | --- | --- | --- |
| May 7 | Romans 5:12-14 | Why Should I Suffer for Adam's Sin? | Pastor Kevin Leach | Bulletin |
| May 14 | 1 Thessalonians 5:23-24 | Preparing for Christ's Return | Pastor Kevin Leach | Bulletin |
| May 21 | Romans 5:15-21 | A Matter of Death and Life | Pastor Kevin Leach | Bulletin |
| May 28 | Romans 6:1-14 | United Heir Lines | Pastor Kevin Leach | Bulletin |
| June 4 | Romans 6:15-23 | Unbound to be Bound | Pastor Kevin Leach | Bulletin |
| June 11 | Romans 7:1-6 | Are You Attached? | Pastor Kevin Leach | |
| June 18 | Romans 7:7-14 | The Purpose of the Law | Pastor Kevin Leach | |
| June 25 | | | Guest Preacher, Richard Licata | |
We meet after the service each Sunday morning for an opportunity to discuss the sermon topics. Please join us in the Koinonia Chapel following the Worship services.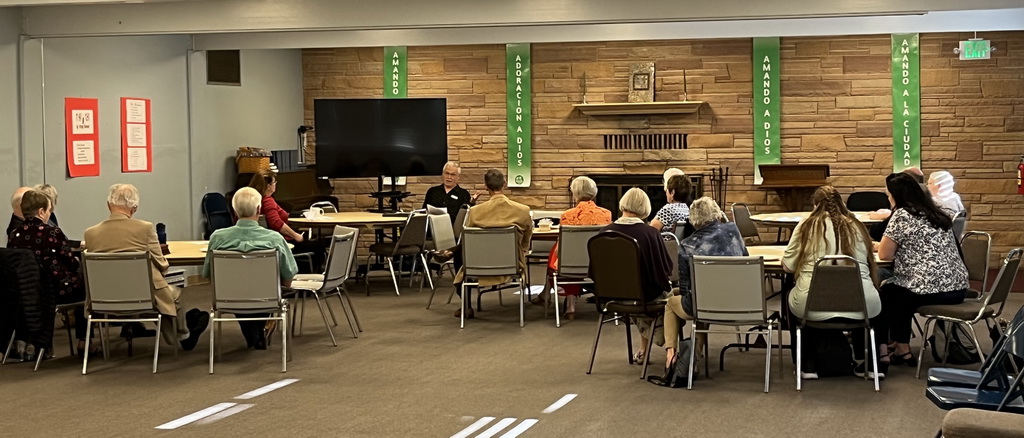 SUNDAY MORNING LIVE 9:00AM

Where Do I Draw The Line?
In this class we are discussing current trends and events that rub up against where our Christian values distinguish us from the secular world we live in.  There are many issues that are controversial in our culture and in the church.  What does the Bible teach about these topics?  Where do we, as individuals and as a church, draw the line on these issues and how do we best do this so we don't alienate a population that is increasingly looking at Christians with suspicion and not a little animosity?  Come join us at 9am in the Upper Room to find out!
Click HERE for Teaching Schedule. Subject to change based on discussions.
BibleStudies
Thursday Morning Bible Chapter Study – in person and Zoom
We meet every Thursday from 9:00 am until 10:30.   Our attendance averages 6-10.  We usually cover two chapters of the Bible each week. Our procedure is to read the Bible text, consulting footnotes in our Bibles for clarification, and have lively discussions of how the message applies to everyday situations we encounter. We end with a brief time of prayers of gratitude and for needs requested by those present. The Bible is our sole textbook and there is no homework for this class. We study and learn together. Come join us at any time, whether you are a Bible scholar or new Christian. You will be warmly welcomed by the group!
Men's Bible Study Group meets Thursday mornings at 8:00 AM.
Bible Reading Program
Join the congregation as we read through the Bible in 2023. Below are resources to help you read through the Bible daily and engage with God.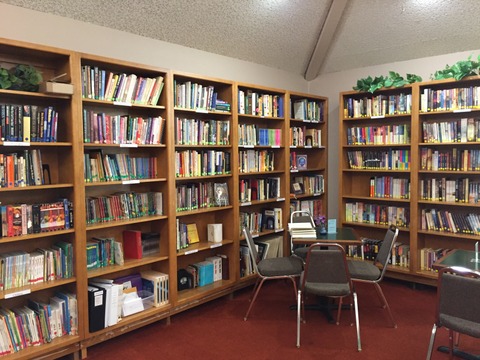 We have a very good library with excellent reference materials as well as many Christian fiction books.  In addition, we have audio books, DVDs, and a large collection of videos.